Volunteer Information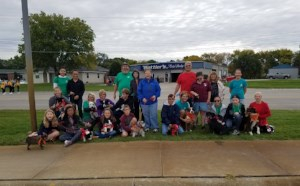 We are primarily volunteer run, so volunteers are critical to our success!
It does not matter what your ability may be, we will find something for you to do! Anything from dog walkers, dog snugglers, kennel cleaners, litter scoopers, kitty snugglers, laundry doers, dish washers and much much more!
If you are interested in volunteering at the ASNN, we have volunteer trainings (scheduled on our events calendar) located at the shelter, 1000 E. Omaha Ave. in Norfolk, NE. There you will learn all safety procedures, how to handle the animals, where all of the supplies are located, etc. We require that you sign up for training so we can keep our volunteer classes to a manageable size, please call (402)750-4665 to sign up or to get more information.
Hope to see you there!
Volunteer Opportunities Available
Dog Walker/Cat Cuddler

Everyone needs exercise!! The shelter is a busy place and we need help getting the dogs and cats out of their cages so they can stretch their legs and get some exercise! Dog walkers will need to wear closed-toe shoes and follow three simple rules: keep dogs a safe distance from each other, pick up the poo and HAVE FUN! Cat cuddlers will spend time playing with the cats in our play rooms.

Animal Husbandry

Keeping the shelter clean is a very important but very time consuming process!!! Every day, our dog and cat kennels are completely sanitized to prevent the spread of any diseases. The detailed cleaning program helps the sick animals recover quicker and keeps the healthy animals healthy. Without the help of our dedicated volunteers, we can't keep the shelter as clean as we do! We need volunteers that can come on a regular basis to help us keep the animals health and welfare top notch!!

Foster

Occasionally we need volunteers to provide short-term care. Generally this involves bottle feeding puppies or kittens but can also include fostering dogs or cats with their litters. All supplies you would need are provided by us and the work is provided by you! Fostering is a very rewarding experience!

General Cleaning and Maintenance
---