JOSIE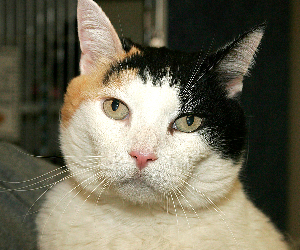 DOMESTIC SHORT HAIR - CALICO
9 YEARS OLD
FEMALE
KIDS: PREFERS NO KIDS
DOGS: UNKNOWN
CATS: UNKNOWN
HAS BEEN AT THE SHELTER SINCE 7/16/2019
JOSIE IS A SHY CAT, BUT LOVES TO CUDDLE!
Josie is a charming, lovable cat who is currently at Animal Shelter of Northeast Nebraska.  Josie is a female, shorthaired, 9-year-old calico. She is described as shy by shelter staff, but a kitty who loves to cuddle.  Josie is quite a large cat, and is beautiful.  She prefers not to be around children.  Her response to dogs and cats is unknown.  Josie is litter box trained, spayed, vaccinated, and microchipped. This good girl with the very pretty face would love to find a new forever home.  To adopt Josie, please call (402) 750-4665, or visit the shelter at 1000 East Omaha Avenue.  Josie likes people, and loves to be with them. Photo and description of Josie are provided by Heartland Animal Advocates.