JAX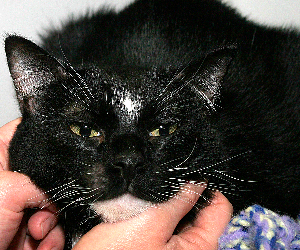 DOMESTIC SHORT HAIR - BLACK AND WHITE
8 YEARS OLD
MALE
KIDS: LOVES KIDS!
DOGS: UNKNOWN
CATS: UNKOWN
HAS BEEN AT THE SHELTER SINCE 8/9/2019
JAX IS 4 PAW DECLAWED AND LITTER BOX TRAINED. LIKES TO BE PLAYED WITH AND PETTED, BUT DOES NOT LIKE TO BE PICKED UP.
Jax is a wonderful, affectionate adult cat who is presently at Animal Shelter of Northeast Nebraska.   He needs to find a new home, and has fine qualities to share with the person or people he will be living with.  Jax is a shorthaired black and white male cat who is 8 years old. He is neutered, vaccinated, microchipped and is litter box trained as cats generally are.  Animal shelter employees say that Jax loves children, which is a plus.   His response to dogs and other cats is unknown.  Jax is all four paws declawed, so needs to be an indoor cat.  Jax likes to be played with and petted, but does not like to be picked up.    He is a pretty cat, with a cute little white chin and nice eyes.  He is extremely appealing, and will easily win the hearts of any people who adopt him.   Jax may be met at and adopted from the shelter at 1000 East Omaha Avenue, with telephone (402) 750-4665.
Photo and description of Jax are provided by Heartland Animal Advocates.