Meet Yuri!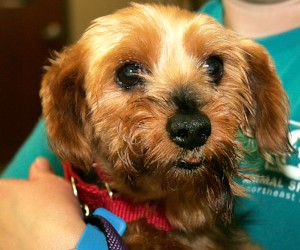 YORKSHIRE TERRIER
11 YEARS OLD
FEMALE
KIDS: SHE'S NEVER MET ANY
DOGS: DOES WELL WITH OTHER SMALL DOGS
CATS: UNKNOWN
LEASH: DOES WELL, STILL LEARNING
HAS BEEN AT THE SHELTER SINCE 8/28/18
Yuri is an 11 year old Yorkshire Terrier. She was rescued from a Puppy mill where she was used as a breeder dog. Yuri missed out on proper socialization and as a result is a very timid, shy dog. She is not housetrained and needs a home with a family that is patient and consistent with training. As a result of over-breeding, her mammory glands have all been removed due to benign tumors. Yuri will be spayed before she leaves, is fully vaccinated, microchipped, dewormed and current on her flea/tick preventative.