Meet Xena!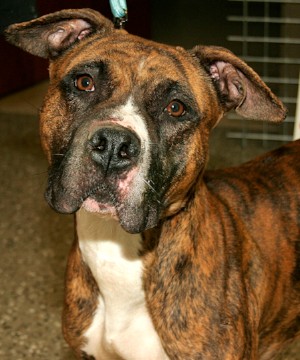 PITBULL TERRIER MIX
6 YEARS OLD
FEMALE
KIDS: WOULD DO BEST WITH OLDER KIDS
DOGS: SELECTIVE. DOES GOOD WITH SUBMISSIVE DOGS
CATS: UNKNOWN
LEASH: PULLS
HAS BEEN AT THE SHELTER SINCE 8/2/18
XENA IS A SWEET DOG THAT WOULD LOVE TO HAVE A COMFY COUCH AND A FAMILY THAT LIKES TO CUDDLE. SHE IS NOT HOUSETRAINED, SO SHE NEEDS A FAMILY WILLING TO HELP HER LEARN.
Xena is a 2.5 year old Pit Bull Terrier that is looking for her forever home! She is an energetic gal that needs a family that is willing to put a little time and effort into training her. She currently is not housetrained, but we are working on it! She is good with submissive dogs, but not good with cats. Xena is fully vaccinated, spayed, dewormed, microchipped and current on her flea/tick preventative.