Meet Maggie!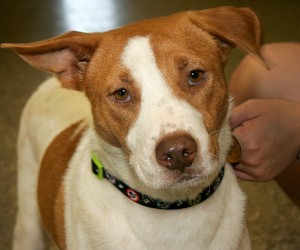 SPANIEL MIX
2 YEARS OLD
FEMALE
KIDS: UNKNOWN, SHOULD DO OK
DOGS: SEEMS TO LIKE OTHER DOGS
CATS: UNKNOWN
LEASH: WALKS WELL ON A LEASH
HAS BEEN AT THE SHELTER SINCE 7/8/18
MAGGIE IS A SWEET, FRIENDLY DOG. SHE HAD A LITTER OF PUPPIES, WHICH ARE NOW BEGINNING TO BE WEANED. MAGGIE IS READY TO BE ADOPTED AND WILL BE READY TO GO HOME IN A FEW WEEKS ONCE SHE IS ABLE TO BE SPAYED. IN GENERAL, MAGGIE IS AN ENERGETIC LADY THAT LOVES ATTENTION AND IS READY TO GO HOME WITH HER NEW FAMILY.