Meet Lamont!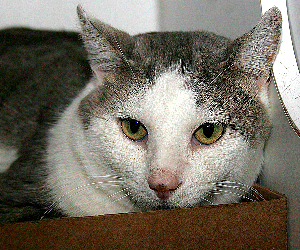 DOMESTIC SHORT HAIR - GRAY/WHITE
1 YEAR OLD
MALE
KIDS: UNKNOWN/ LAMONT IS VERY SHY HERE AT THE SHELTER AND ISN'T WILLING TO COME OUT OF HIS SHELL, THAT MAY BE DIFFERENT IN A HOME OF HIS OWN
DOGS: HE PROBABLY WOULDN'T LIKE THEM TOO MUCH....
CATS: MAYBE/MAYBE NOT 
HAS BEEN AT THE SHELTER SINCE 11/26/18
LAMONT IS A SHY GUY WHO LOVES TO FEEL SECURE IN A BOX OR SMALL BED. HE WOULD DO GREAT IN A HOME WITHOUT YOUNG CHILDREN, AS WE FEEL HE'S THE TYPE THAT JUST WANTS TO BE LEFT ALONE TO DO HIS OWN THING.