Meet Kitty!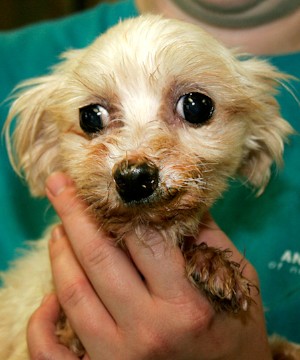 MALTI-POO
11 YEAR OLD
FEMALE
KIDS: SHE'S NEVER MET ANY/ UNKNOWN
DOGS: HAS BEEN AROUND OTHER SMALL BREED DOGS AND HAS DONE WELL
CATS: SHE'S NEVER MET ANY/ UNKNOWN
LEASH: SHE'S UNSURE HOW TO WALK ON A LEASH, BUT IS LEARNING QUICKLY
HAS BEEN AT THE SHELTER SINCE 8/28/18
Kitty is an 11 year old Malti-poo that was transferred to us from another local shelter. She originally came from a puppy mill where she was used for breeding purposes. She is very shy and was not properly socialized in her younger years. She needs a special person to give her love and patience and to show her how good life can be. Kitty is spayed, fully vaccinated and microchipped.