Meet Jimmy!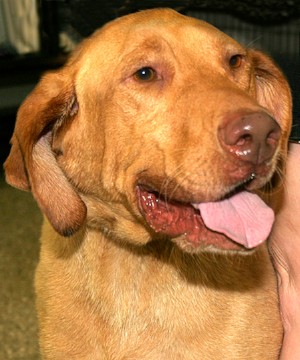 LAB MIX
4 YEARS OLD
MALE
KIDS: HAS BEEN DESCRIBED AS CALM AND PLAYFUL WITH KIDS
DOGS: LOVES OTHERS, BUT CAN  BE AN "IN YOUR FACE" TYPE OF DOG WITH OTHER DOGS
CATS: UNKNOWN, BARKS AT THEM
LEASH: PULLS SOME, NOT A LOT
HAS BEEN AT THE SHELTER SINCE 8/21/18
JIMMY IS A PLAYFUL, LOVING DOG THAT HAS A LOT TO GIVE A FAMILY THAT WILL GIVE HIM A CHANCE. HE'S A BIG GUY THAT IS UNAWARE OF HIS SIZE, SO HE WOULD DO BEST IN A HOME WITH OLDER KIDS. 
Jimmy is a 4 year old Lab/Golden Retriever mix. He's a sweet dog that would do well in most home settings. He does well with other dogs and barely pulls on a leash. He loves to play and would do well in a home with older kids (he isn't aware of his size and can jump when excited). Jimmy is fully vaccinated, neutered, microchipped, dewormed and current on flea/tick preventative.