Meet Jac and Jowee!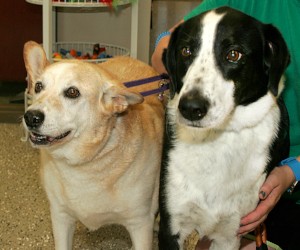 MEET JAC AND JOWEE!
JAC IS A 9 YEAR OLD YELLOW LAB MIX. JOWEE IS A 6 YEAR OLD BORDER COLLIE MIX.
THESE TWO HAVE BEEN TOGETHER THEIR ENTIRE LIVES AND NEED TO FIND A HOME WHERE THEY CAN STAY TOGETHER. JAC IS THE MORE DOMINANT OF THE TWO. THEY ARE BOTH VERY SWEET DOGS THAT WALK WELL ON A LEASH. THEY LOVE TO PLAY TOGETHER, JAC MORE-SO THAN JOWEE AND SEEMS TO DO WELL AROUND KIDS 7 YEARS AND OLDER.
WE ARE UNSURE ABOUT CATS OR OTHER DOGS AT THIS TIME.
JAC AND JOWEE HAVE BEEN AT THE SHELTER SINCE 7/18/18.