Meet Francis!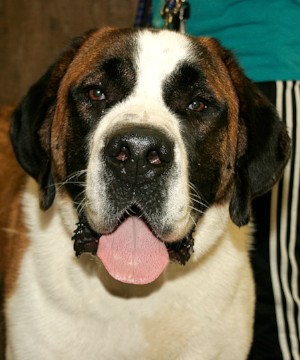 SAINT BERNARD
1.5 YEARS OLD
MALE
KIDS: HAS BEEN AROUND KIDS IN THE PAST, WE WOULD SUGGEST 10+ 
DOGS: SELECTIVE WITH OTHERS
CATS: HE DOES NOT LIKE CATS, AT ALL.
LEASH: PULLS A LOT, NEEDS TRAINING
HAS BEEN AT THE SHELTER SINCE 9/6/18
Francis is a 1.5 year old St. Bernard. Weighing in at 140 pounds, he a whole lot of dog waiting for a whole lot of love. Francis does not like cats, but came from a home with kids of all ages. He pulls, a lot, on a leash, so would need someone willing to train him how to walk on a leash properly, or have a large yard in which he could let out some energy. Francis can have separation anxiety, so needs a home where his family will be home the majority of the time. Francis is fully vaccinated, neutered, microchipped (we register for you), dewormed and gets monthly flea/tick preventative.