Meet Ella!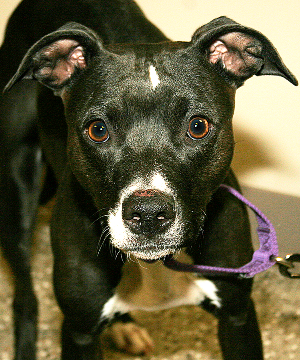 TERRIER MIX
2 YEARS OLD
WEIGHS 35 POUNDS
FEMALE
KIDS: SHE SHOULD DO WELL WITH KIDS, WE SUGGEST KIDS 5 YEARS AND OLDER
DOGS: SHE HAS LIVED WITH DOGS BEFORE AND DID WELL
CATS: SHE HAS BEEN AROUND CATS IN THE PAST AND WAS DESCRIBED AS FRIENDLY/PLAYFUL WITH THEM
LEASH: SHE WALKS WELL ON A LEASH, PULLS OCCASIONALLY
HAS BEEN AT THE SHELTER SINCE 11/8/18
ELLA IS DESCRIBED AS VERY AFFECTIONATE AND GENTLE. SHE IS HOUSETRAINED AND USES POTTY PADS IF LEFT ALONE FOR LONG PERIODS OF TIME. SHE HAS LIVED WITH OTHER DOGS AND HAS BEEN AROUND LARGE ANIMALS. SHE LOVES TO CUDDLE UNDER BLANKETS, KNOWS "SIT" AND "SHAKE" AND LOVES TO GO ON WALKS.