Meet Darwin!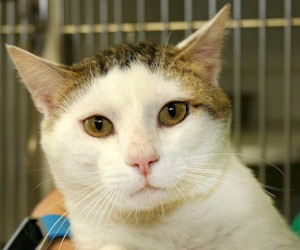 DOMESTIC SHORT HAIR
2 YEARS OLD
MALE
GOOD WITH KIDS
HAS LIVED PEACEFULLY WITH DOGS IN THE PAST
DID NOT DO WELL WITH OTHER CATS IN THE PAST
HAS BEEN AT THE SHELTER SINCE 6/13/18
DARWIN IS A SWEET CAT THAT LOVES BEING PETTED AND PAMPERED. HE WOULD BE A GOOD LAP CAT, BUT DOES NOT LIKE TO BE HELD MUCH. HE WOULD DO WELL IN A HOME WITH NO OTHER CATS, BUT WOULD MOST LIKELY DO WELL WITH DOGS.