KC AND ROYAL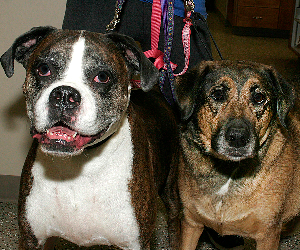 WE ARE DOING OUR BEST TO KEEP KC AND ROYAL IN A HOME TOGETHER AS THEY ARE A VERY ATTACHED PAIR. 
KC  - 8 YEAR OLD FEMALE BOXER, WEIGHS 85 POUNDS. SHE IS DESCRIBED AS PLAYFUL WITH ADULTS/CHILDREN/VISITORS, BUT LIKES TO BARK AND BE HEARD. SHE IS SHY AROUND OTHER DOGS AND CATS. SHE IS HOUSE TRAINED, BUT DOES HAVE AN OCCASIONAL ACCIDENT. SHE LOVES CAR RIDES, WALK AND IS VERY PLAYFUL. SHE ALSO KNOWS "SIT".  
ROYAL - 4 YEAR OLD FEMALE SHEPHERD MIX, WEIGHS 106 POUNDS.  SHE IS DESCRIBED AS SHY AND PROTECTIVE AROUND ADULTS/CHILDREN/VISITORS. SHE IS ALSO SHY AROUND OTHER DOGS AND CATS. ROYAL WILL FOLLOW KC EVERYWHERE AND IS VERY LOST WITHOUT HER COMPANION. SHE IS QUITE SHY AROUND NEW PEOPLE, BUT ONCE SHE CALMS DOWN AND GETS USED TO YOU SHE IS VERY LOYAL. ROYAL IS HOUSE TRAINED AND ALMOST NEVER HAS ACCIDENTS. SHE TAKE A LITTLE MORE TIME THAN KC TO GET TO KNOW YOU, BUT ONCE SHE DOES SHE WILL LOVE YOU WITH HER WHOLE HEART. 
WE UNDERSTAND THAT IT WILL TAKE THE PERFECT PEOPLE TO ADOPT THIS PAIR TOGETHER AND WE ENCOURAGE ANYONE INTERESTED TO COME MEET THEM BOTH AND FEEL FREE TO ASK QUESTIONS.