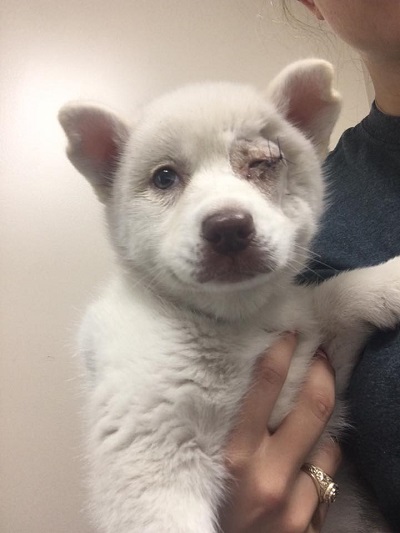 We would like everyone to meet Rosalie!
Unfortunately this sweet girl has had a really tough life in her 7 short weeks of living. She came to us and her left eye was falling out of her head due to some trama. We immediately wrapped her in a blanket and rushed her to the nearest vet clinic where they were able to operate to save her eye. She was in so much pain when we got to the clinic she was literally crying out as we walked in the door.
Her eye lid will be stitched shut for 10 days while her eye heals and hopefully she will regain full vision! We need prayers and any financial support is greatly appreciated! We did everything we could to save her eye so join us in her journey to recovery!
Waking up this morning with her eye shut has been very scary for her. This sweet little angel has a full life ahead of her so keep her in your prayers and she endures the grueling days of healing ahead!
If you would like to help us pay for Rosalie's care, you can go to our website at https://nenehsorg.presencehost.net/donate/. All Donations are appreciated for this sweet little angel! Thank you so much for your support!!