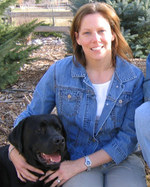 Local animal shelter hires executive director, architect
By KATHRYN HARRIS
kharris@norfolkdailynews.com | Posted: Thursday, May 17, 2012 9:44 am
The Animal Shelter of Northeast Nebraska has brought its first executive director on board.
The group, which is also known as the Northeast Nebraska Humane Society, hired Judy Funk about a month ago to be the person who will help lead the group through the planning and construction of its new facility.
"They wanted to take the next step," Funk said of the animal rescue group. "But everybody on board and the volunteers are so busy with their full-time jobs, they needed to hire someone to go to that next level."
With 18 years of construction experience and 15 years of experience volunteering with animal rescue groups, Funk seemed like a shoo-in for the job. Funk adopted her first dog — a Greyhound that had been a racing dog — while living in Colorado.
"I had read all about the life of a racing Greyhound and really was moved by that," she said.
She soon began meeting other Greyhound owners and started helping other animal rescue groups. She then began serving on the board of directors with local animal shelters. She and her husband — who sparked her interest in Labrador rescue — moved to Stanton about a year ago.
"We had bought land out here in 2008," she said. "We really enjoyed this area so much, and the people, so we decided to move out here."
She had been volunteering for the Animal Shelter of Northeast Nebraska for the past six months. In her role as executive director, Funk plans to see the group through its upcoming capital campaign and construction of its new facility north of Norfolk just east of U.S. Highway 81.
At the beginning of May, the group hired an architect — Avant of Omaha — to begin development of the first phase of the building project. Funk said the 5,000-square foot facility built in the first phase will be large enough to accommodate 25 dogs and 25 cats. The 4 1/2 acres on which the facility will be built will also provide ample room for the animals to exercise.
Construction of an animal play area at the facility will be built courtesy of a project by the Norfolk Public School's Junior Optimist Club, which received a grant for the project from the Northeast Nebraska Philanthropy Council.
Plans for the second and third phases include a community room for training purposes and possibly a veterinary services area.
Funk said preliminary work on the capital campaign is under way. The public campaign will kick off later this summer. She would like to display plans for the new facility at a variety of community events, including several upcoming county fairs. She said the group hopes to raise about $900,000 for the first phase.
In the meantime, Funk said the group is looking for volunteers to help with fundraising events and outreach. In addition, the need for volunteers, especially foster pet-families is growing.
"We can only save as many as we can care for," Funk said.
* * *
Want to learn more?
If anyone is interested in becoming a foster family for an animal, send an email to animalshelternenebraska@gmail.com or call 992-4681.