Happy Tails
Honey After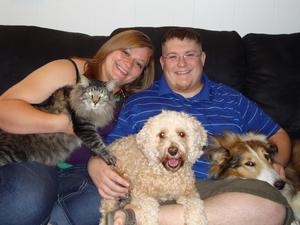 When a loved one dies, those who are left behind often have to make difficult decisions regarding their pets. This very situation happened recently when a family member called and asked for our help with two yellow labs who belonged to their now-deceased sister. Since the family member lived far away, she had to tie up the loose ends of the estate rather quickly. None of the area shelters had room for the dogs, and she was about to have a vet euthanize all three of her sister's dogs. The last dog was not mentioned until later in the conversation, and we believe the family member had not intended to rescue her. The family member told us a complicated story about how the dog did tricks and could walk on her front legs, but we had our doubts all along. Despite our concerns, we arranged for the first two dogs she mentioned to be placed in another nearby shelter. We also picked up the third dog, named Honey and took her to the vet.
While at the vet, we learned that Honey's knees were on the side of her back legs rather than the front. Honey never realized that she had a disability, which is a blessing in many ways. She lived as best she could given the circumstances and scooted across the floor like a seal, all while wagging her tail. We initially wondered if she ought to just live out her life as she was, or if surgery would be recommended. The vet suggested that we do one leg first and look for improvements. He gave us no guarantees of success, and warned that it could be problematic for Honey in the long term.
We decided to go ahead with the first surgery, and Honey came through with flying colors. Honey's foster family took excellent care of her throughout her recovery and observed a marked improvement in her quality of life. Prior to surgery, Honey appeared to be sitting all the time while afterwards, she could stand and even used the repaired leg.
Given these encouraging results, we gave Honey the second surgery. Again, her wonderful foster family nursed Honey back to health and assisted in her rehabilitation. During the entire journey, her family longed to see Honey walk and run like a normal dog. This longing was fulfilled and Honey can now race around the backyard with abandon. This loving family decided to adopt Honey and make her part of their family forever.