Adoptable Pets
Meet Studebaker!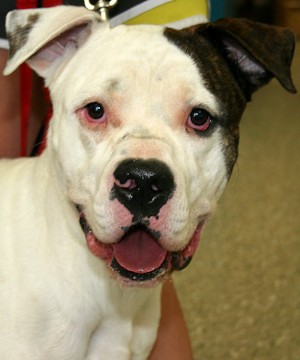 BULLDOG/ MASTIFF MIX
2 YEARS OLD
MALE
KIDS: HAS BEEN IN A HOME WITH CHILDREN AND DID WELL WITH THEM
DOGS: HE DOES NOT LIKE THEM
CATS: HE WOULD DO WELL IN A HOME WITHOUT CATS
LEASH: HE PULLS A LOT ( HE IS A VERY LARGE DOG)
HAS BEEN AT THE SHELTER SINCE 5/31/18
*STUDEBAKER NEEDS AN ENERGETIC HOME WHERE HE HAS EITHER SOMEONE TO RUN WITH HIM OR A LARGE YARD OR FARM TO RUN ON. HE IS A SENSITIVE DOG THAT HAS HAD A ROUGH START TO LIFE AND NEEDS SOMEONE WITH PATIENCE AND THE WILLINGNESS TO TRAIN HIM.