Adoptable Pets
Meet Izetta!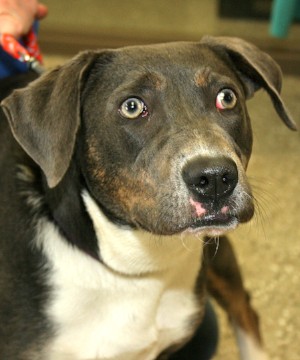 MIXED BREED
2 YEARS OLD
FEMALE
KIDS: GOOD, KIND OF SHY
DOGS: LOVES TO PLAY WITH OTHERS
CATS: UNKNOWN (PROBABLY OK WITH CATS)
LEASH: WALKS LIKE A DREAM
HAS BEEN AT THE SHELTER SINCE 3/23/18
A LETTER FROM IZETTA:
HI! DO YOU LIKE TO RUB BELLIES? I REALLY REALLY LOVE IT WHEN PEOPLE RUB MY BELLY! THE PEOPLE HERE AT THE SHELTER TELL ME ALL THE TIME THAT I AM A SWEETHEART AND THAT I NEED A HOME WITH KIDS TO PLAY WITH AND DOGS TO RUN WITH. IF YOU HAVE A CAT, THAT'S OK, I'LL DO MY BEST TO BE FRIENDS WITH IT! I'D MUCH RATHER PLAY WITH YOU THAN TOYS, SO I WON'T COST YOU EXTRA DOLLARS IN CHEWED UP TOYS!
WILL YOU TAKE ME HOME SO I CAN LOVE YOU AND SO YOU CAN RUB MY BELLY? PLEASE?!?!